Private indiviuals
Multifunctional and tailor made
Room DDB
Amsterdam, the Netherlands
A metamorphosis of a multifunctional space: a guest room and study in 1. The wish? Both working and staying overnight without this being immediately visible. The multifunctional furniture to enable this was designed by Van Schie Architecten and was realized by Redie. A bed has been incorporated in the wooden cupboard wall, that can be folded down as a guest bed and folded up after use. Thus, a sleek back wall is guaranteed when conference calls take place in the office.

The cabinet wall is fitted with sound-absorbing wall panels. In addition, the wall is equipped with three screens. The outer two screens can be covered with a color panel, allowing the middle screen to be used as a TV in the guest room. All equipment is concealed in the furniture itself.
"We understand each other and have a permanent contact person. That is why we can, on the basis of little information, and by asking the right questions, submit very accurate quotations or drawings and start a project. This way we avoid a lot of re-work. Redie's flexibility and thinking along in terms of materials, or form, feasibility or simply practicality about costs is very pleasant."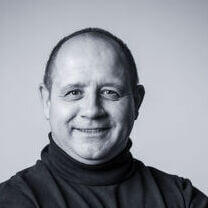 Learn more about our projects?
Please contact us. Carlo will gladly tell you more about our company en projects.