Craft companies
Ultra modern shop concept with handicrafts
BIJ ROBÈRT
Oisterwijk, the Netherlands
The most famous Dutch baker Robèrt van Beckhoven opened an ultramodern shop with pure and traditional delicacies in the old leather factory Oisterwijk. Redie played an important role in the realization of the transparent store concept with modern interior design. Why did Robèrt, known from "Heel Holland Bakt", among others, chose Redie and why did he opt for an ultra-modern interior? The Master Patissier, who is the only one in the Netherlands to have the title Master Boulanger, explains.

Robèrt has not chosen the easiest building for a bakery with shop, but it is certainly a tasteful choice. You can find the BijRobért shop in the porter's lodge of the former KVL leather factory in Oisterwijk, once the largest leather factory in Europe.

Leave the building in honor and create a setup that matches the elongated shape of the store. With a store design where the visitor's attention would be focused on the bakery products as much as possible. Because it is an old building, it is obvious to choose a shop with a classic atmosphere. "But we didn't want that," adds Robèrt. Redie immediately took that very well.

Robèrt had placed this challenge with various interior builders and opted for the design by Redie Interieurs. Robèrt explains: "Redie dedicated themself to us more than average and quickly understood the design. The architect we had engaged for the entire building made a starting point and Redie has developed it simply beautifully. "

With its sleek design and modern store concept, Bij Robèrt distinguishes itself from other bakery stores. The sleek, clear design of the store gives visitors the feeling that they are visiting a jeweler where they can admire delicious juwels in the display cases. From the shop, visitors enter a long glass corridor, nearly 45 meters long, which provides a full view of the bakery and pastry shop. "We have no secrets and are happy to show them," explains Robèrt.
"Redie fully met our wishes and contributed with ideas. The choice of materials and design were always discussed with us and the process was more than pleasant. The dialogue and enthusiasm on both sides resulted in a beautiful design and a wonderful collaboration. I have a passion for my profession and I sensed the same passion for their profession in Martijn and his colleagues. That works well together. I look forward to welcoming artisan bakery enthusiasts to our store. We will personally ensure that a visit to Bij Robèrt is worthwhile"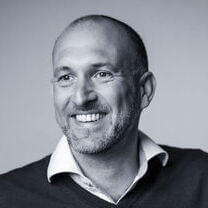 Learn more about our projects?
Please contact us. Ruud will gladly tell you more about our company en projects.