Catering sector
Robust and refined interior and menu
At QUNIS,
Lijnden, the Netherlands
Top chef Ronald Kunis has his own restaurant in an old pumping station in Lijnden, the Netherlands. Ronald Kunis consciously chose Redie Interieurs. Together, a modest and stylish design has been created that perfectly matches the historic character of the building.

A real eye-catcher in the restaurant is the chic black bar. "Robust and refined", just as the chef likes to describe his dishes with regional ingredients. The bar is made in one piece, it has a sleek design with tight corners. The scaffolding above the bar is made of thin steel. This subtly gives the whole more volume, without the light penetrating through the imposing Gothic windows. Guests can look through the bar and overlook the entire bar.

Among other things, the design makes optimal use of the bar's frame. This has also been given the functionality of a bottle rack and glass shelf. On the side of the bar, the wines are visible to the guests. The wines are displayed in large cubes, illuminated with LED lighting that can be set in different colors. This way, the right atmosphere can be created for every occasion. Not only the bar, but also the tables with custom bases were made by Redie.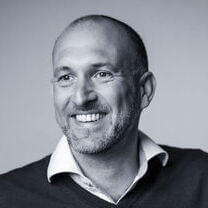 Learn more about our projects?
Please contact us. Ruud will gladly tell you more about our company en projects.